Real-time computer vision on SpiNNaker
Primary supervisor
Additional information
Contact admissions office
Other projects with the same supervisor
Funding
Competition Funded Project (European/UK Students Only)
This research project is one of a number of projects at this institution. It is in competition for funding with one or more of these projects. Usually the project which receives the best applicant will be awarded the funding. The funding is available to citizens of a number of European countries (including the UK). In most cases this will include all EU nationals. However full funding may not be available to all applicants and you should read the full department and project details for further information.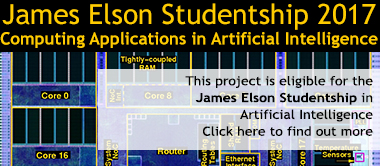 Project description
The SpiNNaker system is a many-core neuromorphic computing platform designed to support large-scale spiking neural networks in biological real time.

The goal of this project is to develop a real-time computer vision system, using spiking neurons, that will exploit SpiNNaker's vast parallelism to deliver state-of-the-art object recognition. Various prototype vision systems have already been developed on SpiNNaker using techniques such as spiking convolutional networks, so the goal here is to take these approaches to a new level and to support the sort of detailed real-time object recognition that might be required by a robot moving through a real-world environment.

A student will require the ability programme in Python (though this can be learnt on the job) and an ability to cope with the design, development and debugging of complex systems in a research environment where everything from the hardware upwards cannot be assumed to be totally reliable!

Keywords: SpiNNaker, computer vision, brain modelling, computational neuroscience, neural networks.

This project is eligible for The James Elson Studentship Award in Artificial Intelligence. The James Elson Studentship will provide an outstanding candidate with fees and an enhanced stipend to carry out a 3-year PhD research project relating to artificial intelligence. The School of Computer Science offers this prestigious PhD studentship for September 2017 entry, for students from the UK and EU who are eligible to pay 'Home' fees.

The deadline for applications for this studentship is Friday 17th March.
▲ Up to the top