Knowledge sharing among communicating agents
Primary supervisor
Additional information
Further information about this studentship
Contact admissions office
Other projects with the same supervisor
Funding
Competition Funded Project (European/UK Students Only)
This research project is one of a number of projects at this institution. It is in competition for funding with one or more of these projects. Usually the project which receives the best applicant will be awarded the funding. The funding is available to citizens of a number of European countries (including the UK). In most cases this will include all EU nationals. However full funding may not be available to all applicants and you should read the full department and project details for further information.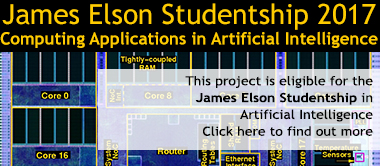 Project description
In our age of big data and the knowledge society, effective processing and sharing of knowledge is crucial. Agents provide a key abstraction within modern development of AI systems and software. A multi-agent system is a collection of semi-autonomous processes known as `agents' which live in dynamic and unpredictable environments. Agents continuously interact with each other and the environment, and have the ability to communicate with other agents and users. In current agent platforms a simplifying assumption is that agents speak the same language, which is recognised as a limitation.

In this project the aim will be to study aspects of agent communication and knowledge sharing where this assumption is relaxed. In particular, our aim is to develop a new agent communication platform and support for scenarios where multiple agents are responsible for different knowledge bases (e.g., that capture the agent's different expertise) and have the ability to restrict and adapt their knowledge so that it can be conveyed and understood by their communication partners.

The project will study and combine methods from artificial intelligence, agent-based systems, ontology-based information systems, distributed knowledge, logic and automated reasoning, and is expected to make use of relevant tools such as the OWL API and LETHE that have been developed in the School.

The project is suitable for an outstanding candidate with a degree in Computer Science or a Mathematical subject who has a keen interest to undertake PhD study at the interface of agent-based systems, ontologies, logic and automated reasoning.

Key words: artificial intelligence, logic agent-based systems, knowledge representation, ontologies, distributed information; automated reasoning.

This project is eligible for The James Elson Studentship Award in Artificial Intelligence. The James Elson Studentship will provide an outstanding candidate with fees and an enhanced stipend to carry out a 3-year PhD research project relating to artificial intelligence. The School of Computer Science offers this prestigious PhD studentship for September 2017 entry, for students from the UK and EU who are eligible to pay 'Home' fees.

The deadline for applications for this studentship is Friday 17th March.
▲ Up to the top