Research projects
Find a postgraduate research project in your area of interest by exploring the research projects that we offer in the School of Computer Science.
We have a broad range of research projects for which we are seeking doctoral students. Browse the list of projects on this page or follow the links below to find information on doctoral training opportunities, or applying for a postgraduate research programme.
Alternatively, if you would like to propose your own project then please include a research project proposal and the name of a possible supervisor with your application.
Available projects
Preparation, characterisation and application of advanced magnetic nanodiscs for cancer therapy
Primary supervisor
Additional information
Contact admissions office
Funding
Competition Funded Project (European/UK Students Only)
This research project is one of a number of projects at this institution. It is in competition for funding with one or more of these projects. Usually the project which receives the best applicant will be awarded the funding. The funding is available to citizens of a number of European countries (including the UK). In most cases this will include all EU nationals. However full funding may not be available to all applicants and you should read the full department and project details for further information.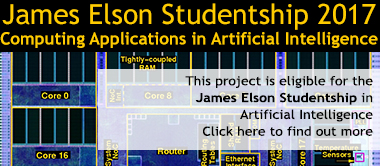 Project description
Supervisors: Tom Thomson (NEST) in collaboration with Neil Telling (Keele)

Advances in conventional cancer treatments such as chemotherapy and radiotherapy have provided vast improvements in cancer survival rates over recent years. However these techniques inevitably lead to the damage of some healthy tissue and cells, resulting in harmful side effects. Many researchers around the world are therefore working to develop targeted cancer therapies that are tumor-specific, and can thus destroy cancer cells without affecting surrounding healthy tissue. One possibility is to use microscopic magnetised particles in such treatments, to provide a source of local cellular level stimulation in the tumor that can be controlled remotely by an external magnetic field.

The aim of this proposed project is to engineer and evaluate advanced magnetic 'nanodiscs' with enhanced and tuned magnetic properties that are perfectly designed for targeted cancer cell destruction. The project will build on a preliminary collaborative study performed by the NEST group in Manchester and Dr Neil Telling at the Institute for Science and Technology in Medicine at Keele University. The preliminary study assessed the feasibility of producing I um sized magnetic discs and interacting them with cancer cells. The group at Keele have strong expertise in the application of magnetic nanotechnology for biomedical applications, whilst the Manchester group are experts at preparing patterned multi-layered structures. We intend to use this complementary expertise to drive the production of smaller (<300 nm) and more biocompatible exotic magnetic nanostructures, which will allow multiple methods for stimulating cancer cells with the aim of inducing apoptosis for the targeted destruction of cancer cells. Ultimately this approach will have applications in cancer therapeutics as part of the next generation of biomedical nanotechnology.

The successful candidate should have an excellent first degree in Physics/Electrical Engineering/Material science/Computer Science , with interests in creating and applying technology across the boundaries of traditional academic disciplines. An appreciation of lithographic processes would be desirable as would an interest in applying the techniques of physical sciences to the bio-medical realm.
Person specification
For information
Essential
Applicants will be required to evidence the following skills and qualifications.
You must be capable of performing at a very high level.
You must have a self-driven interest in uncovering and solving unknown problems and be able to work hard and creatively without constant supervision.
Desirable
Applicants will be required to evidence the following skills and qualifications.
You will possess determination (which is often more important than qualifications) although you'll need a good amount of both.
You will have good time management.
General
Applicants will be required to address the following.
Discuss your final year Undergraduate project work - and if appropriate your MSc project work.
How well does your previous study prepare you for undertaking Postgraduate Research?
Comment on your transcript/predicted degree marks, outlining both strong and weak points.
Why do you believe you are suitable for doing Postgraduate Research?