Explainable and Interpretable Machine Learning
Primary supervisor
Contact admissions office
Other projects with the same supervisor
Funding
Competition Funded Project (Students Worldwide)
This research project is one of a number of projects at this institution. It is in competition for funding with one or more of these projects. Usually the project which receives the best applicant will be awarded the funding. Applications for this project are welcome from suitably qualified candidates worldwide. Funding may only be available to a limited set of nationalities and you should read the full department and project details for further information.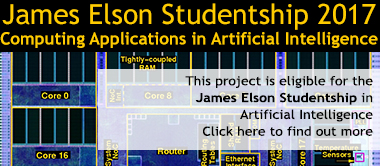 Project description
Machine learning has been an underpinning technology for intelligent system development. While machine learning has turned out to be remarkably successful in tackling with various AI problems and extremely powerful in intelligent system development, its purported "black box" nature generally makes it difficult to be applied to real-world tasks that demand explainability and interpretability.

This project is going to look into several different aspects in developing novel explainable and interpretable machine learning (especially deep learning) approaches. The main research theme includes developing user trustable learning model, identifying the influence of certain variables at different levels in deep learning, understanding how a learning model behaves on given inputs at local and global level and ensuring a learning model to work in a fair and unbiased manner. While this project mainly focuses on developing novel machine learning models and algorithms for model explanation, outcome interpretation/explanation as well as model inspection, appropriate real applications in different domains such as computer vision, natural language processing and medical/health science would be used as test beds for evaluation of developed learning models and algorithms. It is worth mentioning that this project description is generic and a specific yet well-defined project regarding a specific aspect needs to be developed based on a self-motivated student's own input and our existing works.

In order to take this project, it is essential to have excellent mathematics and machine learning (especially deep learning) background knowledge as well as good programming skills.
If you are interested in this project, please first visit my research student page: http://staff.cs.manchester.ac.uk/~kechen/ for the required materials and information prior to contacting me.
Person specification
For information
Essential
Applicants will be required to evidence the following skills and qualifications.
This project requires mathematical engagement and ability substantially greater than for a typical Computer Science PhD. Give evidence for appropriate competence, as relevant to the project description.
You must be capable of performing at a very high level.
You must have a self-driven interest in uncovering and solving unknown problems and be able to work hard and creatively without constant supervision.
Desirable
Applicants will be required to evidence the following skills and qualifications.
You will have good time management.
You will possess determination (which is often more important than qualifications) although you'll need a good amount of both.
General
Applicants will be required to address the following.
Comment on your transcript/predicted degree marks, outlining both strong and weak points.
Discuss your final year Undergraduate project work - and if appropriate your MSc project work.
How well does your previous study prepare you for undertaking Postgraduate Research?
Why do you believe you are suitable for doing Postgraduate Research?